A space in the Exchange is part of the record 736,000-square-foot lease by Dropbox in the building on 16th Street. The leases are getting bigger and the demand by tech firms higher — and rents are way up, too.
The Exchange on 16th Street, site of Dropbox's record lease, is in rapidly growing Mission Bay.
Laura Kerl of Boston Properties looks out a window in an unfinished office space at the imposing Salesforce Tower, which is newly the tallest skyscraper in San Francisco.
In a normal year, the 207,000-square-foot lease that software company Okta recently signed at 100 First St. would be a cause for celebration, an excuse for the city's economic development staff to issue a press release highlighting all the jobs coming to San Francisco.But 2017 has not been a normal year, and the recent announcement by property owner Kilroy Realty Trust caused barely a ripple. After all, the Okta lease came less than two months after the biggest lease in San Francisco history — 
Dropbox's 736,000-square-foot commitment 
at the Exchange on 16th Street. It was also smaller than Facebook's 436,000-square-foot deal at 181 Fremont St., announced in September, and Adobe's 314,000-square-foot lease at 100 Hooper St., which was disclosed in March.More than five years into San Francisco's tech run-up — a boom that has made the city a global powerhouse but also exacerbated its housing and homeless crises — the economic locomotive shows no sign of slowing down. So far this year, 17 tenants have signed leases for over 100,000 square feet each — eight more than in 2016 and tied with 2014 for the most ever.The acceleration in leasing comes as the city debates the rezoning of Central SoMa, a 17-block area in the South of Market that planners have long targeted as the best bet for future employment growth in the city. Property owners in the planning area, including 
the San Francisco Flower Mart 
at Sixth and Brannan streets and 
the San Francisco Tennis Club 
at Fifth and Brannan, have filed applications that would create 5.5 million square feet of office space.If anything, experts say, the number of high-octane tech companies looking to gobble up real estate is growing, and the cost of San Francisco's Class A office space — already the most expensive in the country — is ready to spike again. Rents, which have soared 140 percent since 2010 and are now at an average of $74 a square foot, could go up another 10 percent, breaking the $80-a-square-foot average for the first time."The demand for tech has been strong, and it's only accelerated since midyear," said Colin Yasukochi, research director at the brokerage CBRE. "There is a good chance that rents will start to go up next year."The tech growth comes at a time when city planners are pushing forward with the Central SoMa rezoning, a plan that is expected to generate about 6 million square feet in office development. City planners say the Central SoMa rezoning, seven years in the making and delayed at least a year, will add badly needed tech office space and ease pressure on non-tech tenants, which have been increasingly forced out of the city by rising rents."Cental SoMa is a jobs-oriented plan, because this is the part of town where the jobs are coming," said Steve Wertheim, who is heading up the Central SoMa rezoning for the city's Planning Department. "If we don't create space for (tech companies), they will squeeze out other organizations or relocate to other cities, and we will lose out on tax revenue."Yasukochi said the migration of tech workers to San Francisco is not expected to slow and will continue to put pressure on housing and transit. For the sixth consecutive year, San Francisco was the top U.S. market for tech job growth — its tech job base grew by 39.4 percent over the past two years, according to CBRE. The demand will continue to draw top-shelf talent from other regions."We don't produce enough talent locally to feed all these jobs, so our economy is dependent on attracting workers from outside the Bay Area," Yasukochi said.In the near-term, there is little relief on the horizon. Nearly all the 6.6 million square feet of office buildings under construction — the list includes
 Salesforce Tower, 
181 Fremont St., 350 Bush St., 505 Brannan St., 701 16th St., 270 Brannan St. and others — is already spoken for. The only buildings under construction that have sizable blocks of space still available are the 750,000-square-foot Park Tower at 250 Howard St., which will be ready late next year, and the 1 million square feet at the Oceanwide Center, which is slated for late 2021 completion.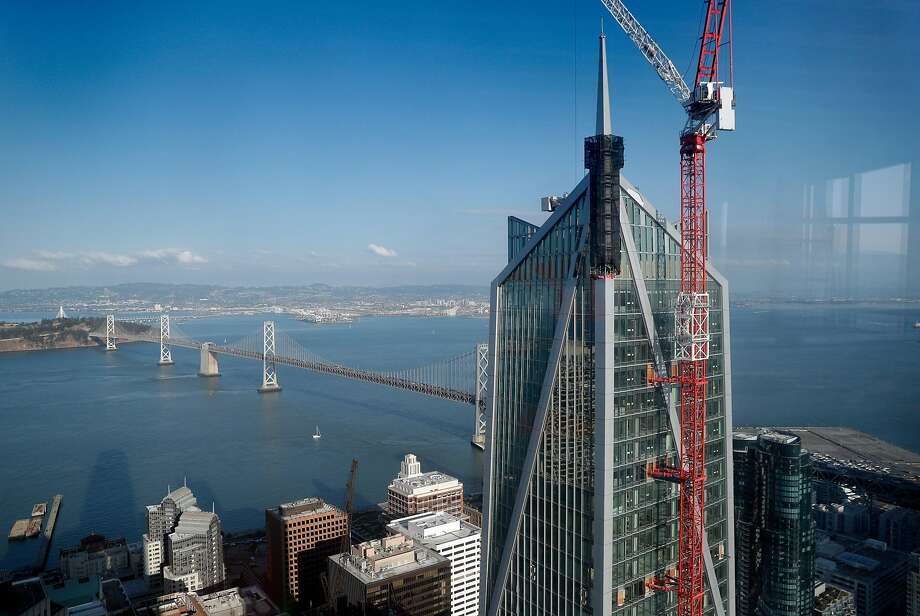 "Our market is absolutely on fire," said Chris Roeder, a managing director with brokerage JLL. "It's as hot as it's ever been. The big blocks of space are moving quick, and not many are going to surface in the next few years."The high-rent tenants continue to squeeze out non-tech companies. The space that Okta is taking at 100 First St., for example, is currently home to Delta Dental, which announced earlier this year that it is moving most of its employees to Oakland. Other companies that have relinquished or downsized their San Francisco space include Blue Cross, Union Bank and Charles Schwab.For the foreseeable future the only real opportunity to put a big headquarters in San Francisco will be at Park Tower, a 43-story tower with 14 "sky decks," lush outside terraces where workers can congregate. After that, the next completion won't be until late 2021, when Oceanwide Center is scheduled to open at First and Mission. That project will include a hotel and condominiums in addition to 1 million square feet of office space.Roeder, who is leasing Park Tower, said competition is hot for the building. Once that building is spoken for, "you're going to have to skip ahead a few years until the next buildings are ready," said Robert Sammons, research director at the brokerage Cushman & Wakefield."We think now that this uptick has very long legs — through 2020 at the very least," he said. "If you had been asking me this question in early 2016 I would have said rents had peaked and flattened."Stephen Berkman, a real estate attorney with the firm Paul Hastings who represented Okta, Facebook and Salesforce in recent deals, said CEOs at the biggest Bay Area tech companies are determined to grow in the city — whatever the cost."It's being driven from the top," Berkman said. "For them the cost of not having space to grow, in terms of recruitment and retention, is greater than the cost of the lease."